"The Helmet" Gets A Little Polish....
(Wait. That sounds ALL sorts of wrong.)
I really don't give my VW enough love.
It's got a pretty rough gig, dragging me to work and back at least 5 days a week, with a total trip that sometimes goes over 100 miles. I do take care of it, because I have to. It's what I rely on to get me to and from work. So if something goes wrong, I tend to spend money to get it fixed.
A month ago, I realized I had put over 50K miles on it since I had gotten it, and hadn't thought to check or find out what the service interval on the automatic transmission was. A quick text to the previous owner, and a consultation with the owner's manual had the car in the dealership two days later to get the tranny serviced.
The dealership noticed that my tires, were pretty much worn down
(Surprise!)
, so they needed to be replaced. Two days later, the Helmet was riding on new rubber
(That Didn't Sound Good Either..).
Your Point?
My point is, while I take care of the car, I don't do a lot of things to make it look or handle better, and I definitely don't do anything to make it faster. I figured, it was time to show it some love, so I hiyt up Craigslist to look for something to try and address one of those three things.
Craigslist Crawling
I hit up Craigslist and started searching for something to put on the car. Suspension, exhaust, exterior stuff...oh wait, I know what it needs. New Wheels! Entering "5x100" soon yielded a promising ad, that showed a set of wheels that should fit the Golf, perfectly.
Old School
A guy up in the Kansas City Area
(Again? Really?)
had a set of Borbet Type C wheels for sale in the right bolt pattern and a inch wider than the factory rims on the Golf. At about $200 for the set, it was a steal. After confirming with the seller that the centerbore and offset would work, I set up an appointment on Saturday to drive up and meet him.
From a little research I found out the Type C was a fairly popular wheel with European vehicles, and it was also no longer in production. Judging by the size (15x7), centerbore (72.5mm) and offset (+35mm), I think these wheels were originally intended for a BMW of some type. No problem, that's why they make hubcentric rings.
Here's what they look like:
Thank You Google Images


Met up with the guy, picked up the wheels and headed back home. Got the wheels unloaded and found one had a slight bend on the inboard side. No problem had a local shop straighten it for a small fee.
Here's a shot of an older Golf with the Type C's installed: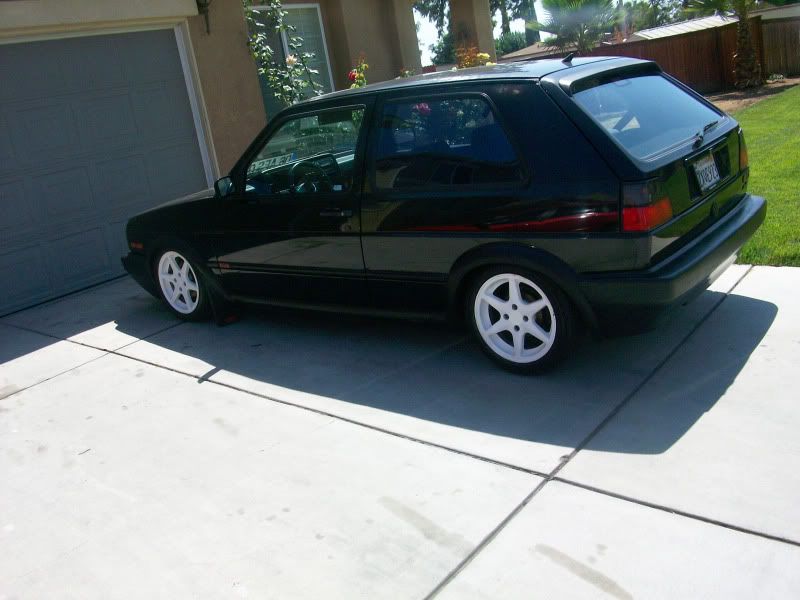 It'll Be Fine..
Why Aren't They On The Car?
Because it's cold outside, and I want to put more performance oriented tires on this set of wheels and save the stockers, for winter use. Which it is now. Unfortunately.
Also, along with the new wheels and tires, I figure a slight suspension drop is in order as well.
Can't have new wheels with stock ride height, right?
It'll Happen.
Alpha, Mike, Foxtrot...